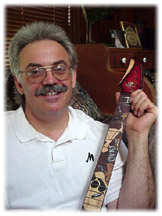 Ray Memmel was born and raised in Rochester, NY and his interest in art began at an early age. He built his first guitar in 1965, a copy of George Harrison's 12 string, as seen in "A Hard Day's Night". As a teenager his leather clothing designs were featured in local newspapers and books. Ray and his twin brother Rick, owned and operated a leather shop in Rochester, NY and Nantucket, MA in the early 1970's.
In 1972, Ray received a Bachelor of Fine Arts degree from SUNY New Paltz ,where he studied painting, drawing, ceramics, sculpture, jewelry, and welding, along with building his second guitar.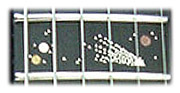 His interest in inlay work began soon after graduation when he designed and created his first inlaid Brazilian rosewood belt buckle, influenced from his woodworking and leather background. These buckles, along with handmade belts and men's inlaid jewelry, were sold at prestigious juried craft fairs on the east coast.
Ray met Pat Cummings, president of Brian Moore Guitars in 1993 and discussed doing inlay work on custom guitars. By 1994, Ray's inlay work was seen on an MC/1 at Summer NAMM in Nashville, a mountain theme, influenced by his paintings and inlaid belt buckles. Topics such as spacescapes, that include Saturn, comets, stars, and planets, along with art deco and the millennium have been widely featured at all NAMM shows to date. This summer at Namm 2003, you will see Ray demonstrating his hand-done inlay technique, throughout the show.